Missha Perfect Cover BB CreamBought: online, Korean product, can only be bought in America through websites, I used Ebay and got it for about $14Pros: Best foundation I have ever used. Good coverage, and totally pure so it takes care of your blemishes, since I have been using this product, I have not broken out once. and it smells soooo good! Like Johnson's Baby Powder :)Cons: If you have oily skin, use this product and apply a powder over it, so you dont have any shine.
MAC Studio Finish ConcealerBought: MAC stores. although, you could probably get it cheaper online. I think it was about $15-16Pros: GREAT coverage. Conceals everything, stays in place throughout the day. Blends flawlessly.Cons: If you wear this concealer, you need to put a powder over it to seal it, don't let the MAC salespeople talk you into buying their powder, any powder will work just fine.
Lancome Color Focus eyeshadow in 4 romance.Bought: Can be bought at any Lancome Paris cosmetics counterPros: Lancome eyeshadows are the best in my experience. The colors blend so well, and the colors are always really vibrant. Cons: Price, Lancome can get pretty expensive, try buying online.
MAC BlushBought: I actually bought this when I was in Thailand, but it can easily be bought in any MAC storePros: A little bit goes a long way, I have used this blush probably 4 days a week since July last summer, and I probably have 2/3 of it left. Don't be afraid of the really bright or bold colors! They look much better on your skin.Cons: none...idk maybe price, but because I bought it overseas, it was of course much cheaper.
E.L.F. Healthy Glow Bronzer in SunkissedBought: Online, through eyeslipsface.comPros: Best thing about this product - IT IS ONLY $1 - gotta love E.L.F., other than that the color is great! Perfect bronzer, dark tan with gold flexes. Best bronzer I've ever had.Cons: Im almost out! I've had it for several months, so I guess it goes a long way. But its not as much as other bronzers.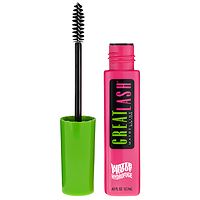 Maybelline Great Lash Waterproof Mascara in Blackest BlackBought: Wal-mart, drug stores, Target, etc. for about $6Pros: Im a huge fan of waterproof mascara. Not only will it not run when wet, but it holds the curled shape of your lashes much better.Cons: Can get clumpy. To avoid this - apply one thin layer, wait till it dries, then apply another layer.
Covergirl Line Exact Liquid Eyeliner in Very BlackBought: Wal-mart, drug stores, etc. I think its like $8Pros: Allows you to draw the perfect line, the slim tip makes it much easier to apply the "cat eye" line.Cons: Doesnt last long. I've gone through about 4 of these in the past 5 months or so.
IQQU Jasmine Rice ScrubBought: Online. iqqubeauty.com runs for $15Pros: Excellent scrub! You will notice how much clearer your skin is in literally about a day. Smells SO good too.Cons: Small packaging, I've had it since Christmas, and I use it about twice a week, Im almost out. :( But its definately something I'll buy again.
CHI Silk InfusionBought: Upperscale Salons, online, or TJ Maxx! price varies by sizePros: Great hair protectant. I use it every time I straighten my hair. Smells amazing! and makes your hair very very silky smooth.Cons: Don't use too much! If you use a lot, your hair can get weighed down or a little oily.
Bed Head ManipulatorBought: Upperscale Salons, Wal-Mart. for about $17Pros: Great Great product, I use this product no matter what I do with my hair. Makes hair so much easier to shape. Thickens hair, or holds it pin shapeCons: Again, if you use too much, it can make your hair look oily. Be careful!